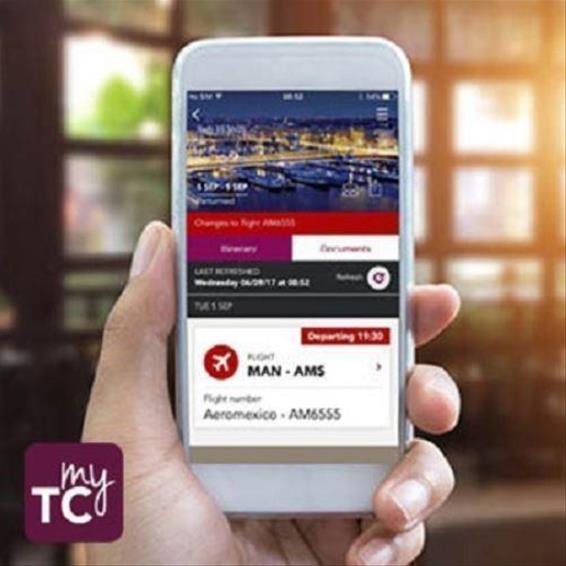 The MyTC app for Android or Iphone is a must-have for every one of my travelling clients!
A while ago we launched the MyTC app for all our customers, both holiday makers and business travellers, and we have received wonderful feedback from them. This app is unique and a fantastic addition to my personal approach as your Travel Counselllor.
Here is why:
The MyTC app gives you access to all your current and future travel data and offers a convenient way to count down the days until your trip departure. The app is also there for you during your trip. For example, view your itinerary, even if you are offline. Your travel documents are also included, in addition to the itinerary, so in a separate folder you will find the flight tickets, accommodation vouchers, transfer vouchers, excursion vouchers, etc. In short, all important papers for your journey are at your fingertips, offline.
It's that easy, you cannot lose your docs and they are available to you anytime, anywhere.
The MyTC app is basically a personal extension of your Personal Travel Counsellor to have in your pocket, wherever you are in the world. You are able to contact me as your Personal Travel Counselor at the touch of a button. Share your itinerary with significant others in the MyTC app via email or easily share it to Social Media.
If you are satisfied with my service, let your family, friends and acquaintances in on your secret of great travels by sharing my contact details with them through the MyTC app. I mainly build my company on personal recommendations, so this would be a big compliment to me.
The MyTC app is also linked to your customer portal with Travel Counsellors. This online portal can be accessed with the same password as that of the app. On the portal you can also view your invoice and pay easily, securely and quickly online in addition to having access to your travel details!
MyTC for Business - Besides holiday travel, I am also happy to assist the business traveller. The MyTC app allows me to stay in close contact with my business travellers. He or she can consult their itinerary and travel documents anytime, anywhere and when necessary contact me with the push of one button. Especially for the business traveller who is often on the road, the MyTC app is a godsend, no printouts, no separate e-mails ... just consult the documents in the app.
MyTC app for the future - There is more ...... Alongside being able to make bookings and having access to your travel documentation and quotes, you can now be alerted to any changes or delay to your flight as well as having your own holiday wishlist to hand. We are working hard to expand the app even further and thus serve you better as a customer.
To get started, once you have made a travel request with me, you can call up the offers I've made to you in the MyTC app. Download the MyTC app for free and ask me for your personal log-in code to start enjoying all the above benefits of having your own Personal Travel Counsellor in your pocket!
Watch a video clip of all the MyTC app has to offer: http://bit.ly/2mS9Bvg