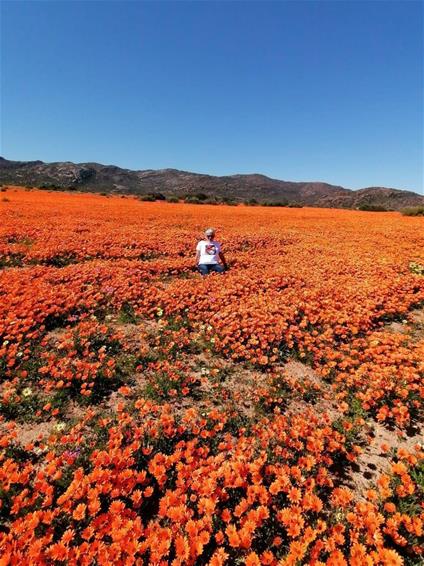 Kamieskroon is a small town just outside Springbok on the N7 national road. If you are travelling from Cape Town, your drive would be approximately 5 hours depending on how many stops you have along the way. This town is very dear to us, as it is my mother's birthplace. Every year, without hesitation, she embarks on her journey to not only visit family but of course to see the flowers every Spring.
Depending on the rainfall during winter, the flowers could start blooming anytime from mid-August. This year the rainfall was a bit later and as you can see from the picture below, the flowers were in full bloom in the first week in September.
The Skilpad Wildflower Reserve should not be missed on your visit. White, yellow and orange daisies – Arctotis, Dimorphotheca, and Osteospermums – are annual stalwarts. But there are also beautiful small bulbous plants found in amongst the koppies and bushes that often go unnoticed – like Babiana and Mesembryanthemums, or Vygies as we know them.
There is no shortage of accommodation in this area. In fact, COVID19 posed a huge threat to the socio-economic state of this region. The hospitality community of the small town is sometimes only employed at hotels when the flower season starts. Thankfully, level 2 inter-provisional tourism was permitted just in time.
Have a look at the pictures to be inspired to visit the wonder of nature, carpets of colour, and experience a bit of the Namaqua culture. Contact me to develop an itinerary for your visit to the Northern Cape.