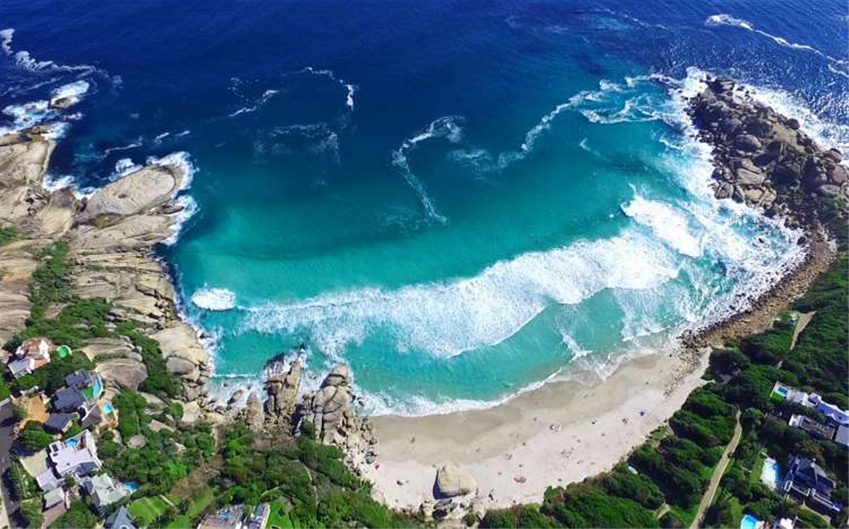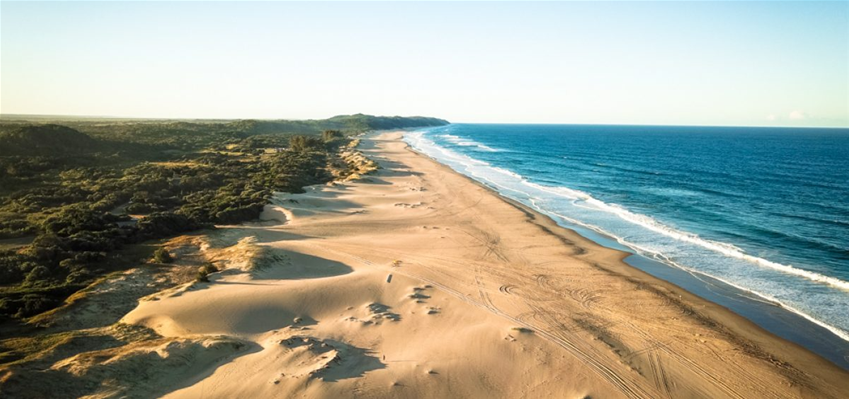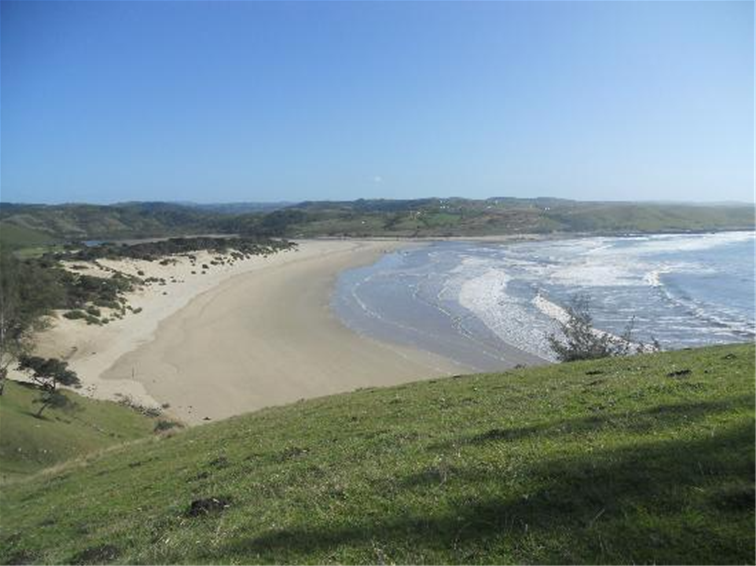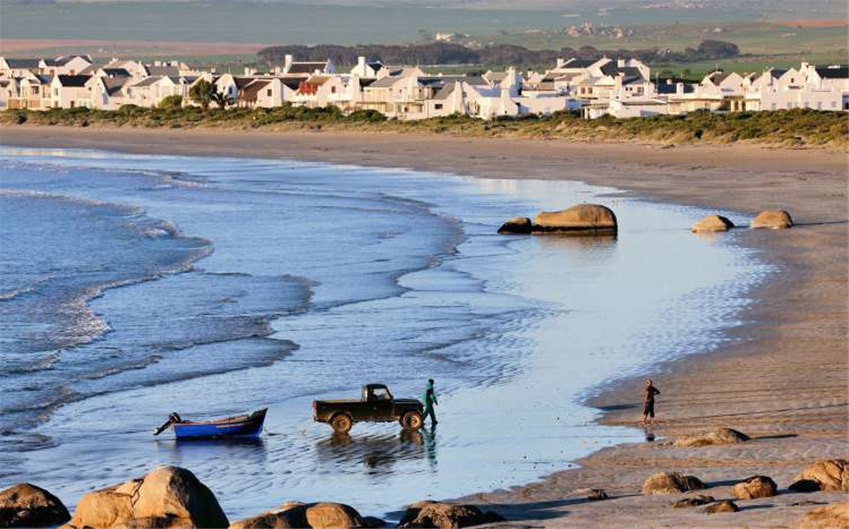 With over 2500 km of coastline, South Africa is blessed with beaches of all types, making it tough to choose, but in honor of World Ocean Day, here are my picks:
KWAZULU-NATAL 1. Sodwana Bay Sodwana is known for long stretches of sands, and a relaxed atmosphere. All beachgoers will find something to love here, from sunbathing and snorkelling to deep-sea fishing. Diving is the year-round drawcard, thanks to the warm waters and numerous species of fish and sharks – even the incredibly rare coelacanth has been spotted here.
2. Cape Vidal Cape Vidal's beach, accessible by winding sandy roads through a national park, is a long strip of soft sand at the base of stretching sand dunes. The area is visited by humpback whales, as well as sea-turtles visiting to nest. Other marine visitors include the huge whale shark, marlin, sailfish, and dolphins – often seen leaping joyously out of the waters just off the beach.
3. Christmas Bay For those that enjoy the north coast but prefer quieter beaches, Christmas Bay is perfect. This beach retains a touch of wilderness, with many rock pools and a sheltered cove for gentle wallows. It's also a great spot for toddlers and small children, who are endlessly entertained by the sea life in the pools that line the beach as the tide recedes.
4. Umhlanga Beach I couldn't possibly leave this wildly popular beach off a list of our best beaches! Umhlanga offers nearly year-round good weather, and a series of long white beaches that offer some of the country's best swimming, sunbathing, and people-watching. With a promenade that is ideal for jogging or walking, and beautiful sunsets, Umhlanga is the very definition of a beach-destination.
EASTERN CAPE 5. Mdumbi Lying in the remote Transkei region of the Eastern Cape, this magnificent beach has a secluded, untouched allure, with rolling white sands and warm waters. With a wide river mouth and a gorgeous long stretch of flat beach, this is the ultimate beach paradise. Spending the day on the beach with almost no one else for hours is not unusual, as only the locals know of its powdery sand and perfect surf conditions.
6. Cintsa The two little villages of Cintsa East and Cintsa West straddle a river mouth that leads to a wonderfully long magnificent stretch of beach. There are a few small shops and a local beach bar, but nature predominates, with most of the town lying behind coastal shrubbery, leaving the unspoiled beaches feeling like a little piece of paradise
7. Birha This beach is situated within a nature reserve and is backed by rolling sand dunes and a typical Eastern Cape river mouth. This slice of paradise offers fantastic kayaking, angling and swimming, with the lagoon offering safe and sheltered waters while the beach offers more than 10km of uninterrupted beach sands.
8. Maitland Mouth Just outside Port Elizabeth, the Maitland River emerges from dense indigenous coastal forest, with abundant birdlife and small animals, onto kilometres of endless sandy beach. The huge sand dunes offer plenty of adventure activities, including tobogganing, sand boarding and hang-gliding. Beautiful rock formations and incredible unspoilt beauty is further enhanced by the shimmering blue of the water, but despite this, it is never crowded and the natural beauty seldom disturbed.
9. Nature's Valley Another pristine but popular Eastern Cape spot, Nature's Valley has managed to remain relatively undiscovered despite its beautiful beach. This peaceful bay lies on the coast of the Tsitsikamma forest, where a small village offers its inhabitants residence in this beachfront paradise. There are many scenic walks and hikes, although if you are not feeling adventurous just lazing back on the beach offers plenty of enjoyment too.
10. Lookout Beach Plettenberg Bay and its famous Lookout Beach serve up seemingly-endless stretches of white sandy beaches and warm Indian Ocean waters, a stone's throw from the affluent town. This is a great spot to while away the hours on the warm sands or to jump in the refreshing waves. Whales and even killer whales frequent the coastline seasonally, and dolphins can be seen year-round.
WESTERN CAPE 11. Scarborough Scarborough beach impresses instantly, with towering mountains surrounding it and vast endless ocean stretching out from the sandy shores. Multiple rockpools await exploring, and surfers love the cascading waves that roll in from the chilly ocean. The beach is never crowded, and retains a feeling of openness and space, with plenty of kites being flown, balls being tossed, and laughs to be heard.
12. Llandudno Llandudno is a personal favourite – far enough out of Cape Town to feel like the city is a million stresses away. Steep stairs lead down from the coastal road towards the boulder-lined dramatic little beach, and the lack of beachside cafes or vendors adds to the Robinson Crusoe feeling of this Cape Town darling.
13. Camps Bay Camps Bay has it all – stylish cafes and wine bars, elaborate villas, luxury hotels, and life-altering sunsets. Add to that a perfect stretch of beach, a palm-fringed promenade, some beautiful people, and you have yourself the perfect trendy beach destination. It is one of the most visually stunning beach destinations in the world.
14. Paternoster Another favourite of mine, Paternoster lies in the midst of the West Coast Atlantic Park. This fishing town offers a combination of striking blue water, brightly painted boats, and stark whitewashed cottages. The shallow bay offers great swimming for those brave enough to venture into the freezing waters, and the cafes and restaurants are perfect for a hot chocolate for those who prefer to observe rather than dip their toes! This is my next beach destination – I'm looking forward to seeing those blue waters from the deck of my favourite beachside spot – with a nice glass of red of course!
NORTHERN CAPE 15. Port Nolloth Here, the changing of the tide and the sweep of the sun across the sky are the only timekeepers, and the stresses of city living are left far behind. Warm stretches of inviting sand, small waves and rock pools promise relaxing days and peaceful evenings. There are big reefs in front of most of Port Nolloth's beaches, meaning stunning marine life, which is a delight to explore with your snorkel and goggles. The rest of the coastline comprises pristine beaches, where one can enjoy beaches that stretch as far as one can see, cool Atlantic waters, and the song of the gulls.