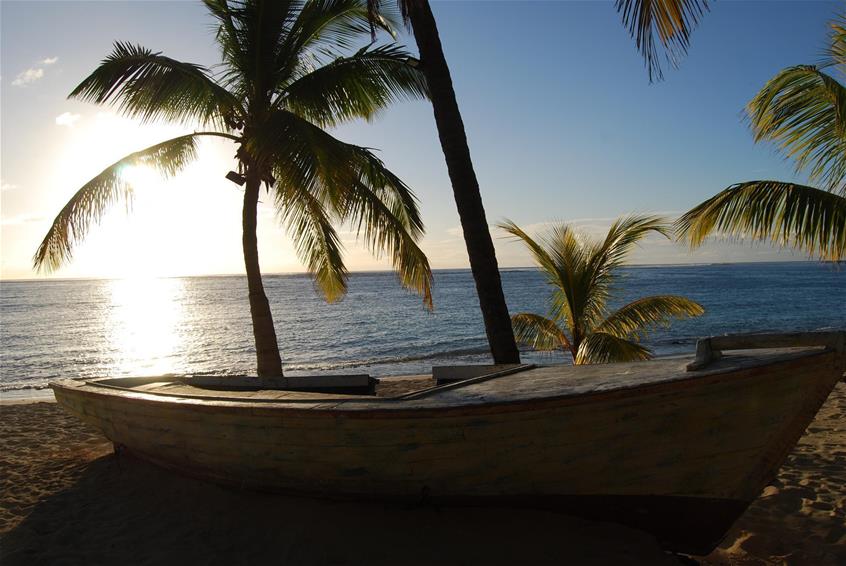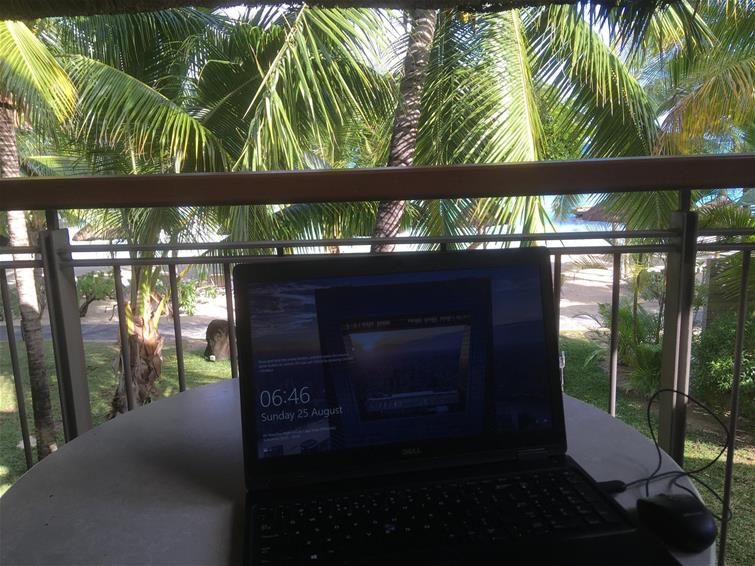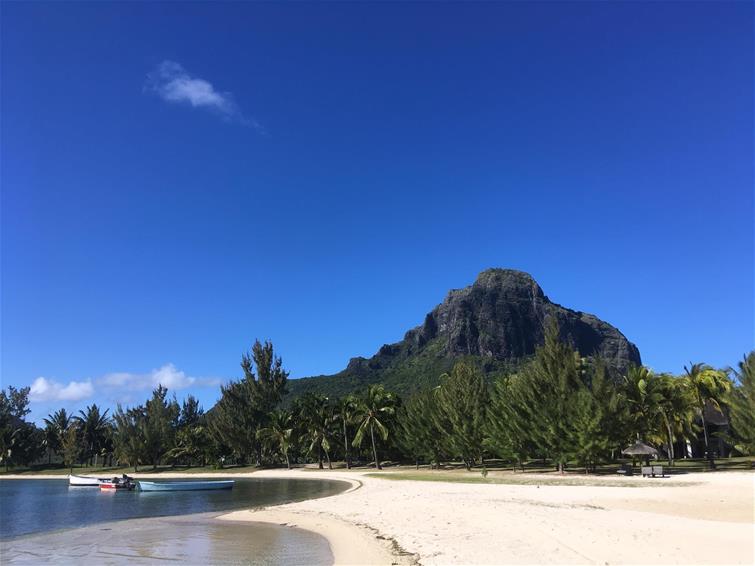 I was extremely honoured to be awarded VIP Ambassador status with Beachcomber Tours. As a result I enjoyed a wonderful week at Trou aux Biches in the north west of Mauritius, and Paradis, at Le Morne in the south.
On the 18th August a friend and I flew overnight with Air Mauritius, directly from Cape Town to Sir Seewoosagur Ramgoolam International Airport in the south east, landing at 5 a.m. We had an hour and fifty minute transfer to Trou aux Biches and were met with a welcome drink, sunshine, and friendly smiling faces.
After checking in to our lovely first floor room, we appreciated having a tour of the hotel and grounds, and were spoilt for choice with the activities on offer. Trou aux Biches is a beautiful, tranquil property, with dozens of large shallow pools throughout the resort. By day the expanses of water reflect the blue sky and magnificent palm trees and at night they beautifully mirror hundreds of lights.
Each crescent of sea facing rooms has a secluded pool, as does each villa, surrounded by comfy loungers and tropical gardens, all an easy walk to the beach.
We swam, kayaked, snorkeled, windsurfed and sailed Hobie Cats. A highlight was seeing a large turtle glide through the clear waters beneath our pedalo. We used the gym and the steam room. We indulged in the most delicious meals, some at the buffet and some at specialist restaurants which we pre-booked. We sampled tasty Thai, Indian, Mauritian, Mediterranean and Italian food. I definitely advise pre-booking both the water sports and restaurants as at peak times they can be pretty busy.
After three glorious nights at Trou aux Biches with breathtaking beach sunsets we took a private transfer meandering through sugarcane fields, countryside and towns, to Paradis…
WOW! I had forgotten how stunning this resort is! Again we had a warm welcome and site inspections of both Paradis and its equally fabulous, if more sedate neighbour, Dinarobin. We were lucky enough to stay in one of Paradis' newly refurbished rooms with a light spacious bathroom/dressing room and a private balcony overlooking the beach, only metres away from the sea. The gentle lapping of waves is wonderfully relaxing!
It's great that the resort only uses refilled glass bottles for water, no wasteful plastic ones anywhere, and they provide recycling bins in the rooms and throughout the hotel grounds. Decent wifi meant I could keep in touch with clients, family and friends too.
This is truly a golfers' paradise! Paradis has an amazing 18 hole course and is ideal for golfing couples, families and groups. However, as neither of us are golfers we enjoyed other activities from the wide range available at the boat house, and sports centre, including a Pilates class and some lovely long beach walks.
We also managed to have plenty of time to really relax and unwind as there are dozens of quiet spots to be found with loungers and shade. We could doze in the sun or read a good book while occasionally dipping in the turquoise Indian Ocean to cool off.
Le Morne mountain makes an incredible backdrop to Paradis and Dinarobin, and with the combined choice of eight 5* restaurants and wide range of activities and excursions on offer, our only regret was not having long enough to sample them all! There is so much for all ages and interests, tennis, yoga, beach volleyball, and not forgetting the evening entertainment and gorgeous Spas too.
Beachcomber Tours – thank you. I am so grateful to be able to continue booking your beautiful holiday experiences for my clients with the added confidence and knowledge of personal experience!