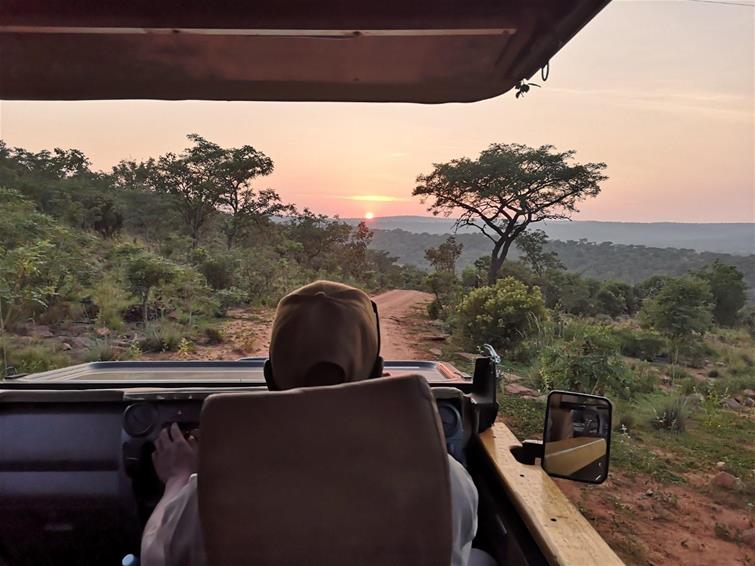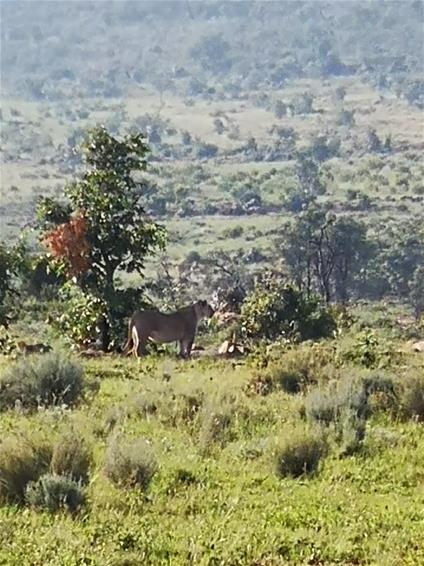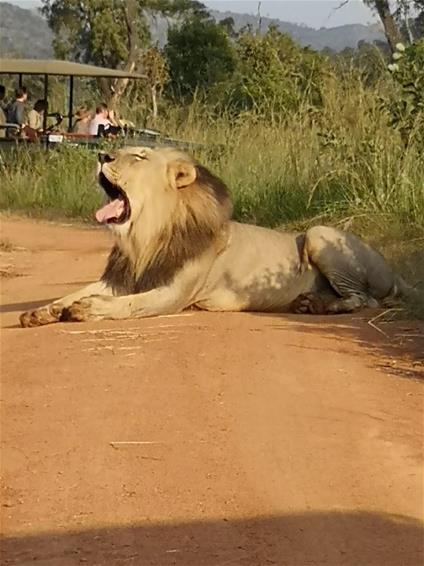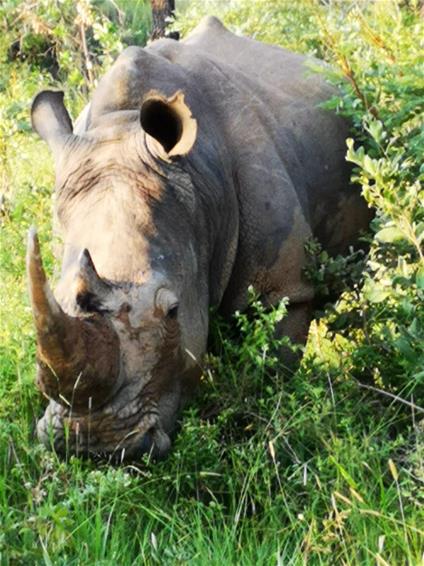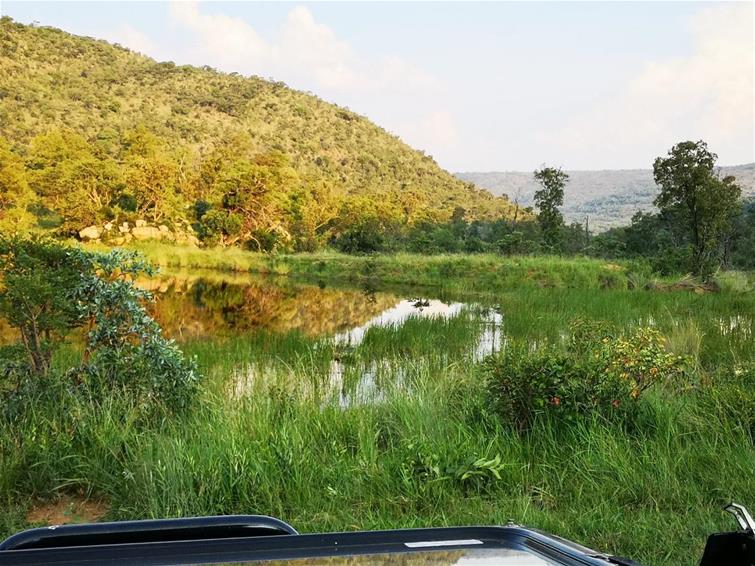 I've just returned from a very special birthday spoil weekend away at Clifftop Exclusive Hideaway with my husband Des.
It took us just over 3 hours to get there, and is located in the Welgevonden Game Reserve in the malaria free Waterberg area.
At the Welgevonden gates we were met by our friendly game ranger Jean who drove us up a steep ridge which eventually revealed the breathtaking views of Clifftop.
The warm and friendly staff greeted us with wet towels and a refreshing drink.
We enjoyed a delicious lunch of steak, halloumi and salad whilst taking in the views.
The tables are spread out so that you can dine privately. It feels like you are the only people there and in those quiet moments all you can hear are the birds singing and the river gushing below you.
There are only 8 luxury suites, each with their own splash pool, huge bed - bigger than a king sized bed, big bath, inside and outdoor shower, lounge area, minibar with complimentary beverages and lovely oversized amenities.
Every suite has their own butler and I proceeded to order a glass of bubbles which my butler brought to me whilst I was taking a dip in our private splash pool to cool down before our game drive which started at 4pm.
We enjoyed 2 games drives daily - early morning at 4pm. They lasted for about 3 hours. There were refreshments served during a break, which was outstanding. We got to enjoy homemade treats, coffee in the morning, gin and tonic and biltong and other yummy goodies at sunset.
The game sightings where spectacular and the game rangers where very knowledgeable. Des and I love going to Game Lodges, so far this is the most impressive. Jean was very knowledgeable, and we loved his quirky facts.
On our very first game drive I spotted a leopard in a tree literally an arm's length away from me - pun intended!
She jumped out the tree before I could capture a photo of her - my hands were trembling and I was actually in shock at this incredible sighting - she let us follow her for a few minutes as she walked behind the bushes and then peeked out at us every few steps so that we could capture her beauty.
The Waterberg derived its name from all the water, and it is lovely seeing all the full rivers and waterholes. There is lots of water and due to all the rain, the grass is quite long, yet we still managed to spot a lot of other game - the cute little "pumbas" - warthogs - who run with their tails straight up in the air, lots of zebra including babies, lots of impala aka McDonalds as there are so many of them. I was so delighted to see a lot of Rhino too. They have anti-poachers which have ensured no poaching for the last 3 years – I hope that this track record will remain.
We saw lions a few times, there are 2 male lions - Thembi and Dinokeng. We watched them have a "stare off" as they were imploding close to each other's territory. We also saw a few female lions with very nervous antelope close by.
On the second mornings drive we drove past one of the plains, which was packed with game the night before but had no game at all in the morning, which was strange. Only to find out that it was because there was a cheetah chilling there who had scared off all the game. We missed seeing her on our drive past, as it was dark but luckily, we went back to enjoy her.
We only came across 1 bull elephant, but I was relieved about after our last thrilling encounter with elephants at Entabeni.
On our final game drive, we had a very special encounter with a lone Rhino bull. He looked so happy to see us, and it was almost as if he needed company. He rubbed himself up against our vehicle and upon close inspection we noticed that he was bleeding slightly. Our game ranger explained to us that he was probably kicked out by his mom, who most likely had another baby to rear. She has to do this otherwise the sibling could harm the infant whilst seeking attention or non-intentionally whilst playing.
I could go on and on about the quality of game that we saw, the quality of our room and fantastic dining also added to the 5-star experience.
The food was delicious - a 3 course meal served every night accompanied by good wine served in huge oversized wine glasses!
Clifftop is all inclusive - including a selection of drinks so I ended off dinner with Amarula every night - as one does in the bush.
Our rooms were turned down every night and the beds were so comfy.
After our morning game drives, we were treated to a full 2 course breakfast.
Thereafter we cooled down in our splash pool - it was 36 degrees and very hot.
I don't know how but we found space for lunch too and then chilled again. They have a good selection of books - before ending the day on another exciting game drive followed by a private dinner.
On my birthday they made a big fuss and sang to me and served me a birthday cake made just for me.
Crème Brule is my favourite dessert, so I indulged in both!
I got back to my room to find a bottle of bubbles as a gift from the manager who also needs a special mention. Tania was super cool, warm and friendly and met us after each game drive and during each meal to check up on us.
We weren't ready to leave after 2 nights, I recommend a minimum of 3 nights. If you would like to experience of all this, then please get in touch with me.